Yanks Come Back Three Times, Finally Beat Phillies
Game date- 6/20/06
Yankees- 9

, Phillies- 7
W- Beam (1-0)
L- Rhodes (0-2)
S- Rivera (14)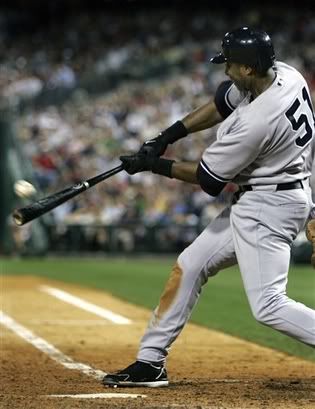 Bernie Williams doubles in the sixth inning of Tuesday's game versus the Phillies, Williams had five hits on the night.
Yankee Starting Lineup:
CF- Damon, 2-5 ( 1B, 3B, 2R, 2 RBI)

SS-Jeter, 1-3 ( 1B, BB, HBP, RBI )
1B- Giambi, 1-4 ( BB, R, RBI, solo HR [20] )

3B- Rodriguez, 1-5 ( 1B, RBI)
C- Posada, 2-5 ( 1B, 2R, RBI, solo HR [10] )

2B- Cano, 1-4 ( 2B, R)
RF- Williams, 5-5 ( 1B, 1B, 1B, 2B, 2B, R, RBI)
LF- Reese, 1-2 ( 1B, RBI)
P- Mussina, 0-2
Other Yankee Batters:
PH- Phillips, 0-1
2B- Cairo, 0-1 ( BB, R)
LF- Cabrera, 1-2 ( 1B, R, RBI)
P- Rivera, 0-1
Yankee Pitchers:
Mussina- 7H, 5R, 3BB, 4K, 5IP
Villone- R, K, 1.2IP
Proctor- R, BB, 0IP
Myers- H, 0IP
Beam- .1IP
Rivera- 2H, 2K, 2IP
Notes:
Tonight was the battle between the New York Yankees and Phillies' firstbaseman Ryan Howard. Howard drove in all seven runs for the Phillies- a 3-run homer and 2-run homer off of Mike Mussina to give the Phils an early lead. Then he tripled and drove in a couple more runs off of the Yankee's bullpen. Mussina only went 5 innings, giving up 5 runs. Mariano Rivera had to come in to the game in the eighth and pick up a two-inning save for his team. T. J. Beam earned his first major league win.
Yankee bats were on fire tonight, each starting player (besides the pitcher) had at least one hit. Bernie Williams singled in the first run for New York ( a two out single in the second, scoring Robinson Cano) , Jason Giambi hit a solo homer in the fourth, and Kevin Reese tied the ballgame with an RBI single in the same inning. After the Phillies re-took the lead, Jorge Posada homered and Alex Rodriguez came through with an RBI-single to tie the game up again. The Phils re-took the lead 7-5 in the seventh inning. Melky singled to make it 7 to 6. Damon had a huge two-run triple in the top of the eighth inning to give back the lead to the Yankees. Jeter then singled him in as an insurance run.