Alex Rodriguez Beats Down Mets
Game date: 7/02/06
Mets- 7,

Yankees- 16
W- Villone (3-1)
L- Soler (2-3)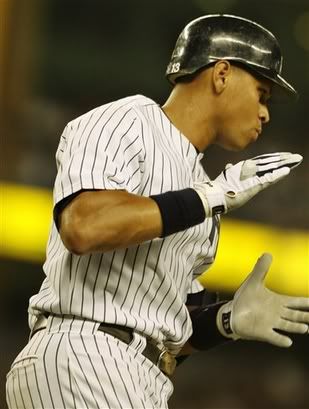 Alex Rodriguez claps his hands after hitting a three run home run in the fifth inning of Sunday's game. Rodriguez had seven RBIs on the night.
Yankee Starting Lineup:
CF- Damon, 0-3 ( BB, R)
SS- Jeter, 3-5 ( 1B, 1B, 1B, RBI, 2R)
DH- Giambi, 2-3 ( 2 BB, 1B, 1B, 2R)
3B- Rodriguez, 3-5 ( 1B, 3R, 7 RBI, grand slam HR [18], 3-run HR [19] )
C- Posada, 2-3 ( 2 BB, 2B, 2R, RBI, solo HR [11] )
RF- Williams, 0-4 ( 2R)
1B- Phillips, 0-5 ( R)
LF- Cabrera, 2-5 ( 2B, 2B, R, 3 RBI)
2B- Green, 1-3 ( 2 BB, 2R, SB, 2 RBI, 2-run HR [1] )
Other Yankee Batters:
RF- Reese, 1-1 (1B)
CF- Crosby, 0-1
Yankee Pitchers:
Wright- 7H, 4R, BB, K, 1.2IP
Villone- 3H, R, 2BB, 3K, 3IP
Beam- 2H, R, K, 1.1Ip
Myers- K, 2IP
Proctor- 2H, R, 2K, IP
Notes:
Jaret Wright was miserable; he couldn't even get out of the second inning! The Mets pounded 4 runs on seven hits off the Yankee pitcher, but due to some excellent bullpen-managing by Joe Torre, the Yanks hung on and came back from the four-run deficit. Villone pitched very well, and really gave the Yanks the opportunity to score some runs off of Soler. Villone picked up his third win of the week, most in the majors.
Alex Rodriguez seems to have found his groove. Three days ago he walked off with a two-run homer, yesterday he flicked a two-run homer to right field, and today he crushed two bombs out of the ballpark! Rodriguez hit a huge grand slam to right field, and a monstrous three-run shot to center. Posada and Nick Green also homered in the ballgame. For Green, it was his first hit as a Yankee. Derek Jeter picked up three hits to extend his hitting streak to eight games.