Century 21: Home Run Derby 2006
I love the Home Run Derby, and watch it faithfully every year. But for the second straight season, no Yankee has participated. Hideki Matsui was asked in '05, but declined- the same thing happened this year with Alex Rodriguez. And there is no Manny, Thome, or Pujols either...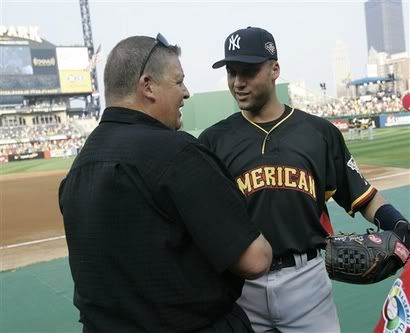 Derek Jeter (here with Notre Dame head coach), Robinson Cano, and several other Yankees hung out to watch the Home Run derby.
Fortunately, several top sluggers
DID
show up at the event. Ortiz, who leads the American League in home runs (31), and Howard, who leads the National League in home runs (28) participated. Astro slugger, Lance Berkman and Toronto's third baseman, Troy Glaus were also in attendance.
Rules of the Game
:
-Each batter has ten outs.
-Anything, that is not a homer ( foul ball, single, pop up, etc...) is an out.
-Home runs carry over from round 1 to round 2, but no further.
-The top four home-run hitters in round 1 advance to round 2. The top two home-run hitters in round 2, advance to the final round. Batter with the most home runs in the final, wins.
ROUND 1
8. Troy Glaus: 1 HR
7. Miguel Tejeda: 3 HR
6. Lance Berkman: 3 HR
5. Jermaine Dye: 7 HR
4. Ryan Howard: 8 HR
3. Miguel Cabrera: 9 HR
2. David Ortiz: 10 HR
1. David Wright 16 HR
For Glaus, this was his second Home Run Derby. Last time he had no home runs, so I guess, this was an improvement. Tejeda and Berkman never really found a rhythm, swinging at almost every pitch. If not for Howard's rally ( he was the last batter of round 1 ), Jermaine Dye would have advanced. Ryan Howard was down to his final out when he hit 4 consecutive home runs, launching him into round 2. At first, Howard swung like he was taking batting practice, smacking line drives and ground balls up the middle, but he soon changed his approach and started crushing the baseballs. Cabrera ( my pick to win) did an excellent job with his smooth, powerful swing. Ortiz, the crowd favorite, put on a show, sending several balls into the nearby Alleghany River. David Wright, though, was the star of round 1. Before Wright started, ESPN broadcasters asked Wright's teammate, Tom Glavine, if David had any chance of winning. Glavine responded, saying that Wright hit too many line drives to win a home run competition. The Met's thirdbaseman proved him wrong. Wright's 16 homers were the third most home-runs ever hit in one round- Abreu (24 in 2005) and Ortiz (17 in 2005)
Anyway, the top four (the ones I highlighted ) advanced.
Unlike the previous Derbys, contestants
DO
carry their home run totals of round 1 over to round 2.
ROUND 2
David Ortiz: 3 HR ( Total: 13 HR)
Miguel Cabrera: 6 HR ( Total: 15 HR)
David Wright: 2 HR (Total 18 HR)
Ryan Howard: 10 HR (Total: 18 HR)
If not for the new rule, Wright would have been eliminated and Cabrera would have moved on.
The younger batters had the advantage here, keeping up the strength needed to continue hitting balls 400+ feet. David Wright only hit two homers, but because of his incredible performance in round 1, he advanced to the final. Ryan Howard was on a roll with his ten home runs. Teammates in the minors, David Wright and Ryan Howard were facing off in the Home Run Derby finals.
Final Round
David Wright: 4 HR
Ryan Howard 5 HR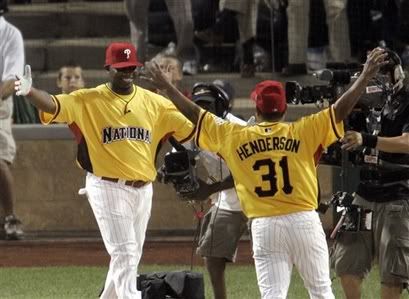 Ryan Howard celebrates with his bullpen coach, Ramon Henderson after winning the competition.
The slate was wiped clean, and the batters started all over again. An exhausted Wright led off with only four home runs. Ryan Howards stepped up, and before recording his 6th out, he blasted five home runs into the Pennsylvania night. His "walkoff" home run (number 5), hit a big "Hit It Here" MasterCard sign in right field. Of the 87 home runs hit on the night, the last one hit the sign. Quite dramatic. Philadelphia's Ryan Howard won the trophy, and his first Home Run Derby contest.
Now the players gear up for tomorrow's All Star Game!